Siblings of I. Wittmann and their descendants


more detailed Wittmann family tree is from currently available data
We continue to search for Bernard's siblings, their families and descendants. This file also depicts the changes in the political system over the years with regard to Slovakia.
We welcome all contributed information about the Wittmann family.
Wilhelm
was born in Ludrová in 1863 and died in Zvolen in 1937. He had a daughter Blanche (Blanka) and a son Nicholas (Miki). Blanche who lived in Hungary had only one daughter Dorotha (Dori) who died in 1944 at the age of 17. Miki lived in Zvolen, his daughter Suzan (Zuzana), born in 1946 lives in Bratislava.
Ignatz (Ignác)
was born in Ludrová in 1867 and died in Zvolen in 1936. For more details go to page Ignatz (Ignác) Wittmann. He had two sons, Karol (Karči) born 1898 in Zvolen and Vojtech (Bela/Adalbert) born 1899 in Zvolen.
Karol, a medical doctor, changed his surname to Witt. He died in Zvolen in 1961. His three daughters were Olga who lives in Pennsylvania, U.S.A., Victoria who died in Quebec, Canada and Maria who lives in Montreal, Canada.
Vojtech (the former owner of the large Dairy concern I.Wittmann & Son) and his wife Marie (nee Snejdarek) had a son Peter (businessman in Brazil) and a daughter Katharine who was since 1991 in business in Slovakia.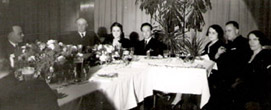 yr. 1934 left to right, Mr.Adamica
(CFO), Ignatz W., Marie W.,
Vojtech W., Vlasta W., Karol W.,
unknown
Kalman (Koloman)
was born in 1868 in Ludrová. He was in business manufacturing and selling bryndza in Zvolen until the year 1941, when the Slovak State as per war time decree liquidating Jewish owned businesses, cancelled his business licence and confiscated all associated property (check Slovak Nation's Memory Institute - Liquidation of Jewish enterprises).
In 1944 he was murdered by the Nazis and Slovak Fascists in the village of Kremnicka. He had three daughters and one son.
His daughters Elizabeth (Erzsi), Olga, Anne and their families were also murdered by the Nazis and Slovak Fascists in 1942 - 1944. Elizabeth (Alžbeta Fränkl) died in a concetration camp, Poland 1942.
Excerpt from an article printed in the Zvolen newspaper: Not too many people know that Vagac, Molec, Wittmann families and others were the leaders in the early development of Bryndza...
... There were other bryndza producers at that time and according to regional statistics from that period, Ignac's younger brother Koloman Wittmann was one of the seven additional small producers.
Koloman was an honest citizen, a small businessman, one of many. His home in Zvolen was on what is known today as Kozacekova Street where he also manufactured bryndza. Today, walking past, we see only an unkept, rusty, sheet metal fence.
His fate however was most uncommon, even though he came from a family of seven children and he himself had five, one son and four daughters (one of them died at age 4 -Jetti).
The son Dezider made his way to England where he fought in W.W.II on the side of the Allies. Koloman and his three daughters, Elizabeth, Olga and Anna, along with their families were murdered by Slovak and German Fascists. Vojtech Wittmann who managed to hide only Olga's daughter Julia in a convent where her life was saved, was later along with his own family hidden by others. Julia was raised by her aunt, Dezider's widow in England along with Dezider's own daughter called Juliette.
During W.W.II the Slovak State was directly responsible for the murders of Koloman's and Julia's families. Following the war, the zealous communist builders eagerly seized Koloman's modest possesions after Vojtech Wittmann, their trustee, emmigrated in 1949. Under Socialist rule Koloman's house went into ruin.
Even after 1989 the State saw no need to "correct the wrongs" and make amends to his grandaughters. The State's plans did not include that people like Julia and Juliette, now ladies in their senior years, would return to the country that held such sad memories for them and comply with its fabricated, invented, eastern-european restitution conditions and laws (permanent residency in CSFR etc.). With this intent, they ratified further laws. The house now the city's property was later sold to kindered spirits for a pre-arranged price. These later demolished the devastated house and sold the land at a tenfold price.
(Written by Steven Hvojnik)
Koloman's Granddaughters: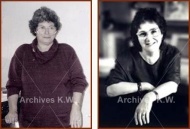 Since Dezo already had a daughter named Julia,
Olga´s daughter was renamed Eva-Julia. Eva lives
in London, England and has two sons and one daughter.
Julia (Juliet) has a daughter Anna and lives in Colorado,
USA. Juliet Wittman's numerous news paper articles can be
found by searching the web for Juliet Wittman.
(photo: left Eva-Julia, right Juliet)
Moritz
was born in 1871 in Ludrová and immigrated to the U.S in 1903. He never married and died in New York City in 1950.
Daniel
was born in 1873 in Ludrová and in 1903 immigrated to USA where he died in New York City in 1951. He had three children. His daughter Blanche and Micael Leff had a son Alan - Alan and Charlotte have three sons, Michael, Daniel and Richard. Daniel´s son Bernard and his wife Roslyn had two daughters, Ellen and Carey Lois. Daniel´s daughter Ruth and Herman Cohen had a son and a daughter.
Ernestine (Ernestina, Tinka)
was born in 1876 in Ludrová - murdered by the Nazis and Slovak Fascists in 1943. She had five sons and three daughters. One daughter died young, four sons and two daughters were murdered by Nazis and Slovak Fascists in 1944. Son Karol went to France where he married and fought in the war as a gunner. While in the armed forces his wife was deported by the Nazis and Slovak Fascists.
After the war, with his hearing severly damaged, he set out searching for her in the concentration camps. Unsuccessful he returned to Czechoslovakia in or about 1947 where he was given employment by his cousin Vojtech Wittmann in his Dairy plant. He remarried and died in 1969 in Zvolen at age 67. His son Jacques lives in France, near Paris. He has two daughters, Lise Noelle and Pascale Marquerite.
Malvina
Malvina – died young
Members of the Wittmann family in North America shortened their surname by eliminating one "n" - Wittman
Katarina and Juliet, Banská Bystrica
Katarina and Juliet, Zvolen
Katarina and Juliet, Pustý hrad
Dioniz W. (Denes) and Ružena Kalaberová
murdered
Juliet´s mother G, Roslyn, x, Juliet, Bernard, Blanche, Ruth
Desider W. and Denes
Jean-Jacques 1960-1970
Bernard Wittmann 1835-1902 (Bernát)
Bernard's wife
1837 - 1877
Koloman W. 1868 - 1944 (Kalman)
Mark - Bernard's brother
1842 - 1890
1895 - marriage of Ignacz, Mark's son and Tini (Ernestine)