Gen. Josef Šnejdárek (Schneidarek)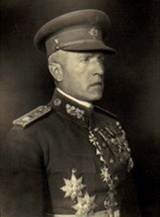 Gen. Josef Šnejdárek
Member of The French Foreign Legion #5824, Czechoslovak Army General, Josef Snejdarek, war hero and patriot, was born on April 2nd 1875.
1914 … Knight of the Legion of Honour
WWI, France - As a second in command he fought in the Battle of Marne and Aisne. He was promoted to captain on the battlefield and decorated with the War Cross for military valour and The Order of the Knight of the Legion of Honour (5.class).
1919 … Czechoslovak War Cross
The President of Czechoslovakia, T.G. Masaryk, presented him personally with the Czechoslovak War Cross (photo).
1920 … Officer of the Legion of Honour
General Pellé decorating Colonel Šnejdárek with the order of the Officer of the Legion of Honour (4.class, photo).
1930 … CSR Košice - Commander of the Legion of Honour
The Order of the Commander of the Legion of Honour was delivered to him personally by a French General (3.class).
President T.G.Masaryk and General generál Pellé
on the far left, Šnejdárek on the far right
1919 Czechoslovak War Cross
1920 Officer of the Legion of Honour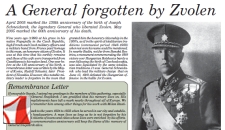 Marie Wittmann's father, French officer a Czechoslovak general.
The private and military history of General Šnejdárek - many interesting stories and more details about the life of Gen. Šnejdárek was published in the Zvolen newspaper on August 8, 2005.
with family 1932
Gen. Šnejdárek's birth place
birth place Napajedla
Šnejdárek, Kremnica 1919
Šnejdárek, Zvolen 1919
Napajedla and Zvolen honorary citizen
Certificate of French Citizenship granted
to J.Šnejdárek, March 27, 1905
Šnejdárek, Těšín
Langhans archive Prague
Šnejdárek: A film documentary with original period film footage. This documentary was premiered in June 2008 by Czech Television on channel CT2. In all respects a most professional and captivating 25 minute account.
"General, Sir" Army General Josef Snejdarek
Theme - Zdeněk Šámal, screenplay - Jiří Podlipný and Lt-Col. PhDr. Eduard Stehlík,
directed by Jiří Podlipný, produced by Czech TV.
Documentary can be found on internet:
Neznámí hrdinové - Pan generál Josef Šnejdárek (in Czech language)
monument (1935), only railing remained
(2008)
left to right; J. Podlipný, M.Gajdoš,
Lt-Col. PhDr. E.Stehlík
work on the TV documentary near Badin

A portrayal of Šnejdárek by his conteporaries:
1. English diplomat James A. Roy in his book "Pole and Czech in Silesia" (1921)
2. Josef Svatopluk Machar, the first General Inspector of the Czechoslovak Army in his book, "Five years in army barracks" (1927)
Author: Roy, James Alexander, 1884-
Subject: Silesia
Publisher: London, Lane
Possible copyright status: NOT_IN_COPYRIGHT
Language: English
Call number: AEY-0516
Digitizing sponsor: MSN
Usage rights: See terms
Book contributor: Robarts - University of Toronto
Collection: toronto
Notes: - no table of contents

Pole and Czech in Silesia, page 101:
Colonial officer, who, besides commanding the Czech troops in the Teschen sector, has assumed administrative control within the occupied territory. Snejdarek is a strong man of outstanding ability who, through long dealing with Arabs and such gentry, has acquired a subtlety and resource in argument which is difficult to counter, and impossible to get the better of.
He is a capable organizer, and impresses one as a good soldier, a man of decision, intelligence, and great force of character. He is attractive in manner and courteous in address, the type of man who, if he once gives his word, leaves one with the comfortable assurance that it will be carried out to the letter.
Now, the Commission has a higher respect for his ability, admiration for his capacity has increased, but it has lost faith somewhat in its own powers of discernment. Snejdarek is, undoubtedly, a master mind, and whatever tune he chooses to pipe the others will dance to.
J.S.MACHAR – Five years in army barracks, Memoirs and documents 1925-1926
Praha – Aventinum – 1927 Czechoslovakia
Page: 172 – 173:
...and the successor to the post of of the city's military governor? I want to talk to Colonel Snejdarek.
Colonel Snejdarek: Impression of a soldier. I explained to him what I wanted from the Army, he wholeheartedly agreed, wholeheartedly promised full cooperation. And whether he would accept the burden of the post of Military Governor? Yes.
After he left I phoned Chalupa informing him that I will be sending him a written recommendation with regard to Snejdarek.- That is how Snejdarek became the Military Governor of Prague.
He did not dissapoint, then or ever. He instilled order into the sloppy army. In a few days the soldiers were no longer walking the streets in their customary duck waddle and they were saluting as tightly wound springs, as they should have.
Snejdarek was like lightning, appearing where least expected, saw everything, nothing escaped his attention. Brief, concise, he simply commanded. With his look and pointed finger he managed to send shivers down ones' spine.
In a few days I had the assurance that the army in Prague was one continuous chain whose link would not break and could be depended on.

New publications of interest with reference to J.Šnejdárek
"Great battles of our history"
(Petr Čornej, Pavel Bělina - Marsyas 1995)

battle in Zvolen 10.- 13.6.1919
page 239 (in Czech language)

"Generál Maurice Pellé" (Radko Břach, Praha 2007)
Military History Institute in Prague
Defence Ministry of Czech republic, Praha 2007
Generál Maurice Pellé – head of the French Military Mission in Czechoslovakia from February 1919
Mr. R.Břach writes about Šnejdárek (p. 119-120):
General Pellé's priority was to renew the combat readiness of the existing army units. Retreat was often sensless and disorganized, moralite depleted and discipline lax. General Pellé ordered an immediate investigation to determine the cause. He held the officers accountable for not being able to deal with the situation. He dismissed General Letovský and on the 4th of June 1919 placed Colonel Josef Šnejdárek in command of the 2nd division.
This time Pellé did not insist on a general's rank and it paid off. Šnejdárek was a soldier as solid as a rock and easily outclassed the native Generals. He came from a Czech family, graduating from cadet school in Prague. Service in the Austrio-Hungarian army proved to be boring so he set out abroad in search of adventure.
In 1899 he joined the French Foreign Legion and seven yeras later became a French citizen. He was wounded several times while serving in North Africa in mountain and desert campaigns.
During the Great War (W.W l) he took part in the heaviest battles - in 1914 in Marne and Aisne, in 1915 near Arrase, in 1916 Somme and Chemin de Dames – each followed by breaks to treat his injuries. He certainly did not spare himself.
In 1917 he was assigned as liaison officer to the Czechoslovak National Council and assisted in organizing the legions. In 1919 he arrived with French Legionnaires to Czechoslovakia and shortly thereafter lead the Army operations in Silesia (January 1919).
After being put in command of the 2nd Division he quickly excerted supremacy and gained the soldiers respect (June 1919). He assembled the scattered units, encamped with them in the hills above Banská Štiavnica, immediatelly attacking the Hungarian Bolsheviks and on June 13th 1919 he secured strategic Zvolen. Seldom were personnel replacements so successful and fortunate.
Ceremony in Prague
Granted by Minister of Defence of the Czech Republic
JUDr. Vlasta Parkanová. In Memoriam to Gen. Josef Šnejdárek,
Cross in defense of the country, Prague 11.October 2008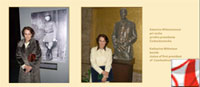 The unveiling of a memorial plaque to hero and patriot Joseph Schneidarek,
Legionaire, Army general
June 15, 2009
The plaque was mounted on the building which in June 1919 housed the Campaign Headquarters of Col. Schneidarek, who taking charge of the 2nd. division of the retreating Czechoslovak Army, went on the offensive, routing the Hungarian Bolsheviks and liberating Zvolen.
(the building of Wittmann family in Zvolen, Slovakia)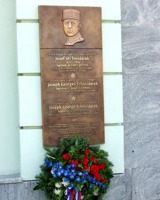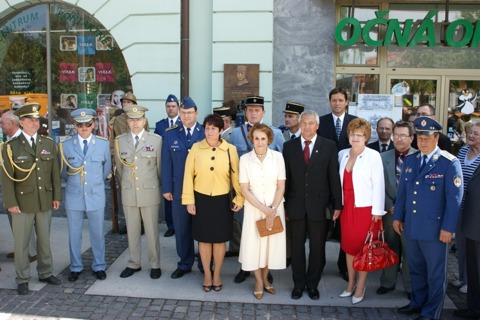 The honourable guests at the unveiling
| | |
| --- | --- |
| Vladimír Maňka | Member of EU Parliament |
| Jozef Mikuš | Member of Slovak Parliament |
| Maj.General Jiří Jančík CZ.R. | Czech Emassy |
| Maj.General Juraj Baránek | Commander of Slovak Air Force |
| Lt.Col. Eduard Stehlík CZ.R. | Military History Institute, Prague |
| Lt.Col. Miloslav Čaplovič | Head of Military History Institute, Bratislava |
| major Bruno Charon FR | French Embassy, Attaché |
| captain Meynet FR | French Embassy |
| Irena Brabcová CZ.R | Mayor of Napajedla, Snejdarek´s birthplace |
| Milan Žuffa Kunčo | Head of Czechslovak Legions Club, Olomouc CR and 2 historical uniform men |
| Miroslav Kusein | Mayor of Zvolen |
| Alžbeta Staníková | Vice-Mayor of Zvolen |
| Ľubica Miľanová, Mgr. | Museum, Zvolen |
| Dr.Blanka Maňkovská | Czech Club, Zvolen |
| Peter Valach | Sculptor |
| Milan Gajdoš | Historian, Sliač |
| Dr.Pavel Kuka | Historian, Kováčová |
| Miroslav Bilský KVH | Head of Czechslovak Legions Club, Slovakia, historical uniform |
| Ing. Ján Šebeň | Head of Slovak Antifascist Club in Zvolen |
In the picture, general Scheidarek's granddaughter, Katharine Wittmann, is showing a small ring with forget-me-not. She is explaining regarding it why she has been carefully cherishing it all her life: My mother told me that  I was 9 months old  when they (Schneidareks) were leaving Czechoslovakia. (Note by Hv.: it was straight after division of Czechoslovakia)
Katharine Wittmann
and Stefan Hvojnik
My grandfather gave me two little earrings and a little pendant. I wore the earrings until I was ten years old. During our escape, the pendant stayed in Zvolen, because we could not have many things. There, it was stolen. My mother had these two earrings, shaped as forget-me-nots, made into this ring with the forget-me-nots so that I would not forget him, as he had wished.
This part includes the historical description
of Gen. Šnejdárek's battlefront leadership and
its impact on the outcome of the battle against the Hungarian Bolsheviks (in Czech language).

Battle for Slovakia
embroidered flag - with gratitude from the Maidens of Prague
Minister of defence V.Klofáč in Lučenec (bottom row, middle)
-next right Šnejdárek
-next left General Mittelhauser
President T.G.Masaryk´s first visit to Bratislava, capital of Slovakia - first left Gen.Šnejdárek
Loss of territory drove the Hungarians to attack neighbouring countries
| | | |
| --- | --- | --- |
| | | |
| General and Mme. Šnejdárek died in Casablanca | route taken by Czech units dressed as Sengalese warriors | Czechoslovakia 1919-1938 |