Ignatz (Ignác) Wittmann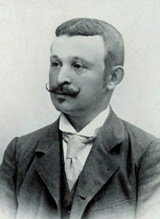 Ignatz Wittmann
Born in 1867 in the mountaineous region of Ludrová, Slovakia. As young men, the five sons of Bernard and Elizabeth Wittmann left their birth place to seek opportunities elsewhere. Daniel and Moris immigrated to the U.S. Ignac, William and Koloman moved to Zvolen, a village 80 km. S/W where they began to develop business activities. Most successful was Ignatz who in 1891 established a dairy company later renamed I. Wittmann & Son, a trade mark used to this day. Ignatz died in Zvolen in 1936.
Ignac had two sons, Karol and Vojtech. Karol changed his name to Witt and practised medecine in Zvolen until his death in 1961. He had three daughters, Olga lives in Pennsylvania, Victoria died in Quebec and Marie lives in Montreal.
Vojtech (more information under Vojtech Wittmann , the former owner of a large dairy company) and his wife Marie (née Snejdarek) had a son Peter and daughter Catharine/Katarina. Katarina Wittmann was in business in Slovakia since 1991. Peter was a businessman in Brazil.
Additional information will be published following research in the archives.
| | | | | |
| --- | --- | --- | --- | --- |
| | | | | |
| I. Wittmann | wife Julia | birth place map | birth place Ludrová | nations of Austria-Hungary |
| | | | |
| --- | --- | --- | --- |
| | | | |
| Slovakia - Zvolen | 1903 Julia Wittmann and sons | | yr. 1929 left to right Mr. Zwick, Vlasta W., Olga W., Karol W., Ignatz W., period with German partner (I.Wittmann and Zwick) |
| | | |
| --- | --- | --- |
| | | |
| Ignatz in school | Ignatz 1876 | knife 1935 |
| | | |
| --- | --- | --- |
| | | |
| Ignatz, Dvořák, Adamica | Ignatz Wittmann 1866-1936 | Ignatz´s grandson Peter Wittman and his wife Francine |